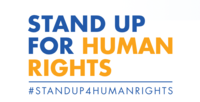 Mission
Celebrate Human Rights Day
Vision
All human, all equal
Key words
Racism, Sustainable Development Goals, Upstander, Changemaker, Tolerance
About Stand Up for Human Rights
Every year on 10 December, the world celebrates Human Rights Day, the very day when, in 1948, the United Nations General Assembly adopted the Universal Declaration of Human Rights.
The Declaration consists of a preamble and 30 articles that set out a broad range of fundamental human rights and freedoms to which all of us, everywhere around the world, are entitled. It guarantees our rights without distinction of nationality, place of residence, gender, national or ethnic origin, religion, language, or any other status.
Take action
Follow Stand Up for Human Rights
Visit their website
Fight bias,
stereotypes & racism
Peace making

Bring us
Together

Share this Page
You might be inspired by these initiatives too:
Fight bias,
stereotypes & racism

Break down barriers throught sports
Overcome the fear of difference and replace it with the power of inclusion!
Through the power of sports, with inspiring athletes and a wide range of resources, the Special Olympics celebrates ALL differences and ALL abilities and invites everyone to create an inclusive and welcoming world for all.
Fight bias,
stereotypes & racism

A future where people of color are free
The Advancement Project is a multi-racial civil rights organization using innovative tools and strategies to achieve high impact policy change.

They envision a future where people of color are free – where they can thrive, be safe and exercise power.

Fight bias,
stereotypes & racism

Educate and inspire through arts
Use the power of art and education to celebrate diversity and inclusion
Every year, Embracing our Differences organize a large-scale exhibition of juried art projects submitted by schools from all around the world, to create awareness and promote diversity.
They proposes educational resources and guidance to promote discussions around upstander values and anti-racism.