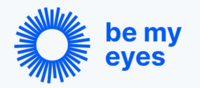 Mission
Connect blind and low-vision people
Vision
Bring sight to blind and low-vision people
Key words
Tech, Technology, Volunteering, Disability
About Be My Eyes
When you are blind or with a low vision, you sometimes need to rely on someone else's eyes to solve everyday tasks.

In Denmark, Hans Jørgen Wiberg created Be My Eyes, a free app launched in 2015. Thanks to the app, blind or low-vision individuals can connect with sighted volunteers and company representatives who assist them through live video calls.

More than 5 million volunteers have signed up to assist blind and low-vision users, making the app the biggest online community for blind or low-vision people.
Be My Eyes also became the largest micro-volunteering platform in the world.

Be My Eyes also partners with companies and offers a variety of solutions —Specialized Help, My Eyes at Work, Corporate Volunteering, Be My Eyes Careers…— to improve accessibility for consumers and in the workplace.
Take action
Follow Be My Eyes
Visit their website
Unite and Inspire
AI/Data

Bring us
Together

Share this Page
You might be inspired by these initiatives too:
Unite and Inspire

Change the narrative about race in the US
To overcome racial inequality, we must confront our history
As a lawyer, Bryan Stevenson founded the Equal Justice Initiative to end mass incarceration and excessive punishment in the United States, to challenge racial and economic injustice, to expose racial bias in the criminal justice system.
Unite and Inspire

Make doll looks like the child who receive it
Unique differencess make us beautiful
"A Doll Like Me was born out of the idea that our unique differences make us beautiful."

Amy Jandrisevits creates dolls with unique characteristics, dolls that make all children feel included.
A Doll Like Me is changing the narrative on how we see each other and promotes an inclusive world in every respect.


Unite and Inspire

Give the opportunity to learn computer science to every student
Learn to be creators, not just consumers
Who knows how to code?
We need to be creators, designers, programers, not just consumers! In the U.S. more than 500 notable people in business, education, and the nonprofit sector are calling to update K-12 curriculums to allow "every student in every school to have the opportunity to learn computer science ».