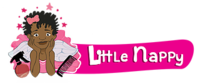 Mission
Make children pround of their differences
Vision
My difference is my power
Key words
Self-esteem, Break barriers, Role models
About Little Nappy
All children benefit from the reinforcement of seeing people who look like them represented in the pages of a book, in a cartoon, in a toy. But diversity in children's books, craft and toys is growing slowly.
In France, Hashley Auguste, a young, Franco-Haitian mother, created Little Nappy: a universe for black and bi-racial kids, exploring identities, stories, history, geography, cultures, and ways of life. With books, videos, activity books, dolls, Little Nappy shares a positive message to make everyone feel important and self confident.
Little Nappy is all about diversity, inclusion and belonging! Everyone needs to see positive and inspiring role models that look like them.
In books, on TV, in a store: diversity shouldn't be an exception, it should be the norm!
Take action
Follow Little Nappy
Visit their website
Fight bias,
stereotypes & racism
Education

Bring us
Together

Share this Page
You might be inspired by these initiatives too:
Fight bias,
stereotypes & racism

Select anti-bias children's books
Foster tolerance and belonging, and promote an inclusive world
Teaching for Change developed SocialJusticeBooks.org in 2017 to identify and promote the best multicultural and social-justice children's books, as well as articles and books for educators.

Fight bias,
stereotypes & racism

Educate and inspire through arts
Use the power of art and education to celebrate diversity and inclusion
Every year, Embracing our Differences organize a large-scale exhibition of juried art projects submitted by schools from all around the world, to create awareness and promote diversity.
They proposes educational resources and guidance to promote discussions around upstander values and anti-racism.
Fight bias,
stereotypes & racism

A future where people of color are free
The Advancement Project is a multi-racial civil rights organization using innovative tools and strategies to achieve high impact policy change.

They envision a future where people of color are free – where they can thrive, be safe and exercise power.