Resources
Dig deep into diversity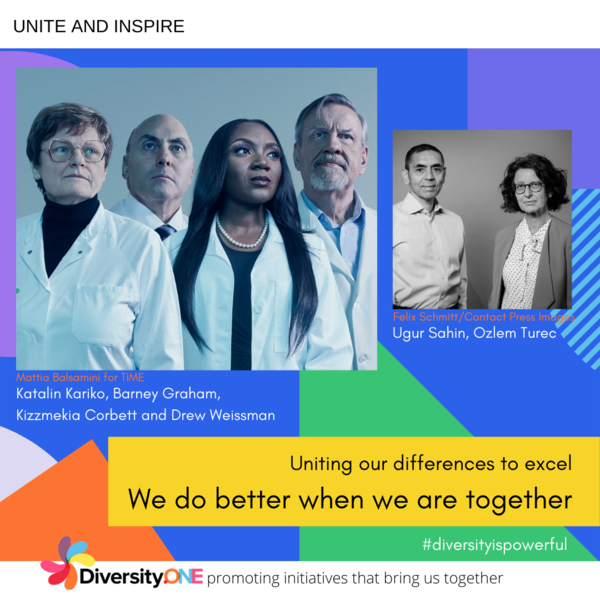 We do better when we are together
COVID-19 virus and the power of diversity: diverse teams of scientists worked together to create vaccines.
By Diversity.ONE Team - May 13, 2022
Abstract
The journey of scientists and pharmaceuticals that create new vaccines shows what we can accomplished when we work with partners around the world to address the greatest challenges of our day.
Katalin Karikó grew up in a small town in Hungary. Katalin Karikó, speaking about her American colleague, Drew Weissman, said, "Everybody who knows us knows that we are very different." Despite their differences, they worked together and contributed their expertise on mRNA/RNA therapies to lead the way to the development of vaccines against Covid19.
Ugur Sahin and Özlem Türeci, the founders of the German pharmaceutical company, BioNTech, have a shared Turkish heritage. Ugur Sahin was born in Turkey and Ollem Türeci's parents are Turkish. Albert Bourla, Pfizer's chief executive is Greek. Sahin said, "We realized that he (Bourla) is from Greece, and that I'm from Turkey" — countries with long-running antagonism. Bourla and Sahin said that they had bonded over their shared backgrounds as scientists and immigrants. As a result of this bonding, the Pfizer-BioNTech COVID19 vaccine was made possible.
Dr Barney Graham is from Kansas and Kizzmekia Corbett is a black American viral immunologist. They used their unique perspectives and experiences to develop the Moderna vaccine.
The CEO of Moderna, Stéphane Bancel, is French.
These examples illustrate the point that we are able to thrive in the space where diverse perspectives overlap. To put it simply, we do better when we are together.
Watch The Story Behind mRNA vaccines with Katalin Karikó and Drew Weissman
Watch A conversation with BioNTech Co-Founders Ugur Sahin and Özlem Türeci, about this transatlantic success, on Atlantic Councial Youtube channel.
Share this article